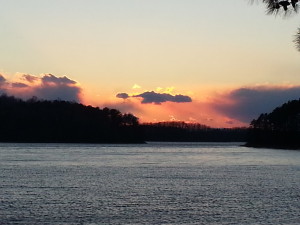 We regret to inform you of the death of Ms. So Yang Kim, 29-years-old, from Buford, Georgia.  Ms. Kim was in a rented boat with a 34-year-old man named Young Tae Shim, also of Buford, whom DNR Sgt. Lee Brown believes was her husband.
The investigation into the one-boat crash that occurred on Sunday, March 15, 2015, is in its earliest stages.
According to a report from Georgia's Department of Natural Resources Law Enforcement Division Public Affairs Officer Mark McKinnon, DNR responded to a call that came in on Sunday evening around 9:20 PM of a boating accident on Lake Lanier in the Chestatee Bay area in Hall County, not far from Browns Bridge Road.
Upon arrival, officers found a Monterrey-brand boat upside down on a rock outcropping on the Hall County side of the channel.
There is no clear indication of how the boat capsized at this time.
Ms. So Yang Kim was deceased at the scene of the accident.  Mr. Young Tae Shim was taken to Northeast Georgia Medical Center in Gainesville, where he was released after receiving treatment for minor injuries.
The Critical Incident Reconstruction Team from the DNR's Law Enforcement Division will continue its examination of the tragic accident.  Their final report is not expected for several weeks.
We are thankful for the efforts of the DNR teams, firefighters from Hall County and the Marine Rescue Team, in addition to Forsyth County firefighters and other rescue personnel.
We extend our sincere condolences to the family and friends for their loss of So Yang Kim.