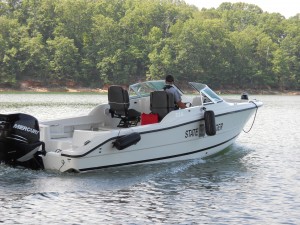 There are not many times when getting a score of zero means you win.
That's the case with the Fourth of July Holiday boating statistics report from the Georgia Department of Natural Resources' Wildlife Resources Division.
Statewide in 2012, there were no drownings and no other fatalities.  There were three injuries from three separate incidents.
Seven operators were ticketed for Boating Under the Influence (BUI) in 2012 over the July 4th Holiday.
As of 9:35 PM, Thursday, July 4th, 2013, this was the statewide score:
Drownings – zero
Boating Under the Influence (BUI) – 2
Boating Incidents – 2 (1 on Lake Hartwell and 1 on Lake Burton)
Boating Incident Related Injuries – 3  (Injuries from the incidents above included 1 broken arm; cuts/bruises and another minor injury.)
Boating Incident Related Fatalities – ZERO!
We regret that so many of the folks who make a living by serving folks who visit Lakes Allatoona and Lanier have suffered financially from the recent bad weather.  Don't let the rain keep you away from having dinner near the lake.  Have a nice meal and watch the rain.
When the sun comes out again — and it will — be safe out there!