Vann's Tavern Park has an interesting history.  Depending on whom you believe, a man named James Vann was either a Cherokee Indian or the great chief of the Cherokees.  Around 1805, Vann built a tavern near Vann's Ferry — which I presume was also James Vann's.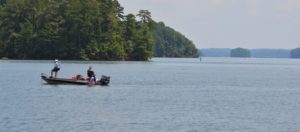 The ferry allowed those traveling the Federal Road to cross the Chattahoochee River between what is now Hall County and Forsyth County.  That's the good news.
The bad news is the site of Vann's Tavern, one of 14 owned by James Vann (according to Wikipedia), was submerged when Buford Dam created Lake Lanier in the 1950s.
The original building was preserved and moved to New Echota National Historic Landmark.
That was then.  This is now.  "Now" includes an attractive white sand beach at Vann's Tavern Park on the western shore of Lanier, just below Brown's Bridge Road between Gainesville and Route 400.  Lake views, a boat launch and spots to munch your lunch abound.
Please Note:  Alcoholic beverages are prohibited in all Corps of Engineers parks.
Directions to Vann's Tavern Park
Vann's Tavern Park is located on Vann's Tavern Road, off of Waldrip Circle, which is off of Browns Bridge Road (Georgia Route 360).  Put this address into your GPS for easy directions: 9300 Vann's Tavern Rd., Cumming, GA 30041.
Coming from Gainesville, Waldrip Circle is about a quarter-mile west of Port Royale Drive.  Turn onto Waldrip Circle.  Merge onto Vann's Tavern Road, then go less than a mile south to the park.
Read more about Lake Lanier's history while you're there.  Maybe take a nap and rewrite history.  Make yourself the hero of your own story in your dreams.  Why not?  Everyone else does.