Two Mile Creek Park on Lake Lanier was given a professional makeover by the US Army Corps of Engineers.  Now, it's more beautiful than ever.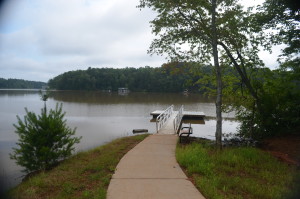 This 30-acre Happy Place has 32 spots to picnic, restrooms and parking for all 30 boats in your private fleet.
Cool off at the beach after your personal regatta or take your pick of trails inside the park.  Yes, you may walk your pets on the paths, but please don't leave any "gifts" for others to pick up.
Two Mile Creek Park is in Forsyth County between Two Mile Creek and Four Mile Creek.  It's close to Three Sisters Island on Lake Lanier — one of the lake's largest and most visited islands.  Launch your boat at Two Mile Creek Park and you'll be King of the Hill atop the intriguing Three Sisters Island in no time.
Please Note:  Yes, you may rename the island after yourself.  Thank you.
Directions to Two Mile Creek Park
Take Browns Bridge Road — Georgia Highway 369 — about five miles east of Georgia 400.  Look for Jot Em Down Road.  The name Jot Em Down Road is derived from [make up a big lie and insert it here].
South of the intersection of Jot Em Down Road and Rt 369, you'll find Bethel Road.  Travel about two miles down Bethel Road to Two Mile Creek Park.
The final step?  Relax and forget your troubles … until you must face them again.
Two Mile Creek Park Address
9200 Bethel Road; Gainesville, GA 30506