For some people who work in Gainesville, Thompson Bridge Park is where they go to eat lunch and clear their minds before going back to the grind.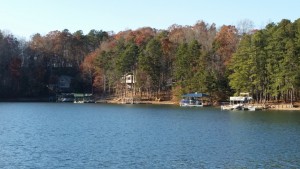 Driving out of Gainesville on Thompson Bridge Road, you'll pass burger joints, pizza parlors, a fancy Chinese restaurant and Mexican fast-food.
Yes, there's a brand-name coffee shop where you can happily overpay for snooty coffee with a snazzy name.
Munch a taco on the lower tier, or sip a latte on the upper level at Thompson Bridge Park's two tiers.
This is a nice location for wondering how much stately lake homes go for these days and for vicariously catching fish from a boat offshore.
This boat ramp is not fancy, even though it is maintained with excellence by the US Amy Corps of Engineers.  If you have average skills at backing a boat in the lake, you'll probably be okay here.  If you're more likely to back into a tree than the lake, choose a park with larger ramps.
When the water is low, you can walk out on a small peninsula and fish in deeper water from shore.  If Lake Lanier's levels are up, you won't believe it could be done.
Channels in this area are popular for trolling for stripers.
Please Note:  Some of the water near this boat ramp is shallow.  Please pay attention to the warning buoys.
The park officially closes at sunset, but the boat launch is open for midnight cruisers and folks who like to fish at night.  If you want to sit outside instead of your car, bring a chair or a blanket.  There aren't many benches or picnic tables available.
Thompson Bridge Park is off Thompson Bridge Road (GA Rt. 60) just north of Thompson Bridge.  The official address is 372 Dunlap Landing Road, Gainesville, GA.