Six Mile Creek Park is small but … well, it's really just small.  There aren't many parking places and it's not much more than a boat ramp.  Once you're on the water, that stuff doesn't matter.
The park is where Six Mile Bridge on Browns Bridge Road (GA Route 369) crosses over Six Mile Creek.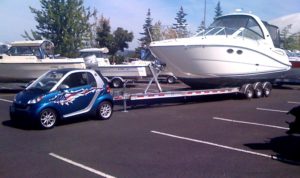 This isn't the easiest park to get into or out of, but you can get onto Lake Lanier in record time if there's room for you.
When you pop your boat back onto its trailer, getting out of Six Mile park can be an adventure.  Whether you turn east or west on Rt 369, it's uphill — with downhill traffic zooming downhill toward you.
Wondering what this park is six miles away from or how it got its name? Simple!
This boat ramp is six miles east of the intersection of Georgia 400/Route 19.  Here's more good news.  If you need bait, or anything related to fishing, Hammond's is only 5.4 miles west.
If Six Mile Creek Park isn't fancy enough for you, the Corps of Engineers operates dozens of others around Lake Lanier with picnicking, campgrounds, boat ramps, swimming areas, picnic shelters and hiking trails.
Take your pick.