You won't find an amusement park or a giant water slide at Simpson Park — unless you bring your own.  What you will find is a boat ramp to launch your ship into Lake Lanier and a place to park your trailer.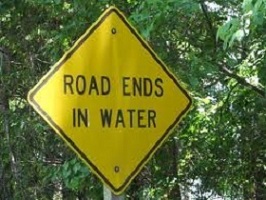 Please be careful when you launch your fishing boat.  We recommend backing into the water, instead of driving straight in.
After you remove all the giant bass from the lake, you can grill a few for friends and strangers lakeside.
If you need to refuel your boat or your family, you'll find Gainesville Marina and Skogies Lakefront Restaurant directly across Lanier, just a few fathoms, farthings and furlongs away.
Day use parks are open daily from 7:00 a.m. to 10:00 p.m.  Most boat ramps are open after parks close.
Directions to Simpson Park on Lake Lanier
From the intersection of Georgia Route 53 (Dawsonville Highway) and Sardis Road, take Lynncliff Drive to Fork Road.  Turn left almost immediately onto Simpson Park Road.
You'll be on the water or fixing your picnic in no time.
Address:  3235 Simpson Park Road, Gainesville, GA, 30506