Nix Bridge Park is on the Chestatee River, one of the tributaries of Lake Lanier, down the road a piece from all the outlet malls near the intersection of GA Route 400 and Highway 53.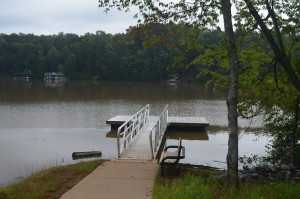 Nix Bridge Park is tucked away in an almost-secret location that's hidden in plain sight.  Here's a big clue.  Ready?
You can find this park at the end of Nix Bridge Road, off Route 9 (Harmony Church Road).  Please don't tell anyone that we spilled the beans.
Have you heard the tales about the giant striped bass that flee from Lake Lanier to escape being caught?  Yup.  They end up near Nix Bridge Park.
Where you can put your boat into the water and catch fish until your arms ache.  Guaranteed!  (Some restrictions apply.)
Please Note:  If you fill your boat to the gunnels with stripers, you can buy a bigger boat nearby!
This is one of 46 parks operated by the US Army Corps of Engineers providing "picnicking, campgrounds, boat launch ramps, swimming areas, group picnic shelters and hiking trails."
Driving Instructions to Nix Bridge Park
To find Nix Bridge Park from the outlet malls (near the insane intersection of GA 400 and Highway 53), drive less than a mile north on Route 400 to Route 9, also known as Harmony Church Road.  Turn right.  Once again, drive just less than a mile and turn right onto Nix Bridge Road (also known as Nix Bridge Rd.)  Less than a half-mile away you'll find Nix Bridge Park.
Please Note:  After you find Nix Bridge Park and the secret fishing holes nearby, please don't spread the news.  It's a secret.  Thank you.
Address: Nix Bridge Park; 2367 Nix Bridge Road; Dawsonville, GA 30534