Mountain View Park is a U.S. Army Corps of Engineers facility located just east of the large bridge on Browns Bridge Road, a few miles outside of Gainesville.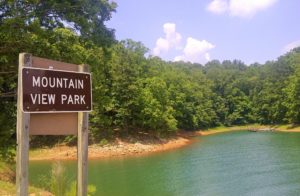 The Corps operates 46 park areas around the lake providing, picnicking, campgrounds, boat launching ramps, swimming areas, group picnic shelters and hiking trails. 
Mountain View Park has a boat ramp and dock.  On busy summer days you run the risk of not finding a space for your trailer and truck.
The address is 5450 Old 141 Road, Gainesville, 30506. If you use Google maps for driving instructions, it's best to search for "Mountain View Access Point."  Otherwise, you might be directed to Balus Creek Park on Mountain View Road instead.
Driving Instructions to Mountain View Park
Bear left onto Old 141 Road, across from Whiporwill Drive. while driving west on Browns Bridge Road toward Forsyth County.
Please Note:  Yes, the name of whippoorwill birds is spelled differently than Whiporwill Drive.  No, I don't think it looks right, but it is.  Thank you.
If you're going toward Gainesville, it's a different story.  The almost-360-degree right-hand turn is nearly impossible to make while pulling a boat trailer.  Drive past the park, turn around and go back … unless you can't resist the challenge of causing an accident on a busy highway.