Little River Park is more cozy than secluded.  It's tucked away in a quiet cove in the northern part of Lake Lanier, off Route 129, not far from Laurel Park.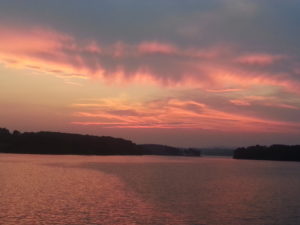 Little River doesn't have the super-sized boat ramps, dog parks, running trails or baseball diamonds that you will find at nearby Laurel Park.
This is the kind of park that locals prefer for a walk or a spot to read a book on a summer day.
You can put your boat in Lake Lanier here, and there's plenty of room for your truck and trailer.
The park is easy to find and the parking fee is cheap.  If you don't spend three hours and $127.44 shopping after you get ALMOST here.
If you drive from Gainesville, head up Cleveland Highway (Route 129) and cross the bridge by the State Patrol office.  Once you get that far, you are either a few minutes or a few hours away from Little River Park, down a pretty road on your left.
What's on the right-hand side?  A treasure trove of salvage stores.  Some of the best junk money can buy — at bargain prices.  Looking for left-handed spoons, oil filters for a 1971 Chevy Vega or velvet pictures of Elvis playing cards with dogs?  This is the place!
Imagine dozens of aisles stuffed with amazing goodies that yuppies in California will pay a zillion dollars for on eBay.  (Maybe.)
Rookies think they can drop off the womenfolk and fish in peace while the ladies shop.  Hahaha!  You might save more money if you bring them with you and use $20 bills for bait.
Either way, if Momma is happy … everybody's  happy!
There is one way to have fun for free.  (Two, if you count watching the submarine races.)  Let your mind and/or feet wander on the large, unnamed island right off shore.  No, you can't camp there, but you can explore to your heart's content.
Please Note:  For the incredibly low price of only $5.00 per day, we will name that island after you or your dog!  Annual rates (payable in cash in advance) are available!  Act now!
Little River Park has free restrooms, two boat ramps, a fishing dock, picnic tables, and grills.
The official address of Little River Park is 2665 Little River Park Road; Gainesville, GA, 30506.