If you're looking for a park on Lake Lanier that is far from Atlanta but close to perfect … you're looking for Laurel Park.
The turn off Cleveland Highway (Route 129), north of Gainesville is easy to miss.  Once you find it, you'll never forget how to return.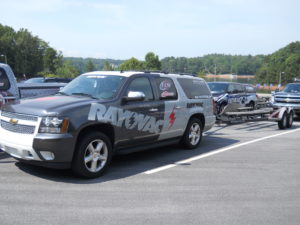 Hall County and the State of Georgia wisely invested in making Laurel Park ideal for tournaments featuring professionals in search of fame, fortune and fish.
The parking lots will fit hundreds of trucks and trailers.  Multiple boat ramps allow you to get on the water quickly or off the water fast, if storms come up.
Yes, you can present yourself with the award for World's Best Fisherman at the bleachers!
Would you like a park with a wooded, paved trail along Lanier's shores to hear or tell juicy secrets to your friends?  This is the place.  Enjoy the breeze and the trees, as you stroll with friends, old and new.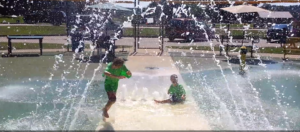 The next time your kids drive you insane continually saying, "Mama! Mama! Mama!," pop them in the car and head to Laurel Park.  Let them run around until they're exhausted in the Splash Park!  You'll all have a blast.
The best part?  They'll fall asleep in the car until you get home.  (This might be your chance to drive to Key West without them fighting in the SUV.)
Little kids love to play there and we grandparents love it too.  We're just far enough away to stay dry, but close enough to help, if necessary.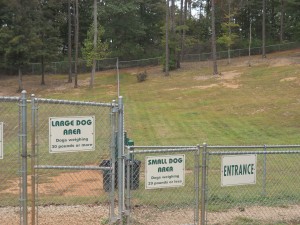 If you're looking for a park on Lanier to let your dog run around, you have one choice: Laurel Park.  That's where you can let Spike frolic with the big dogs, while Muffy and Squirt hop safely in the field next to it.
Laurel is where many of the best local teams gather to play baseball.  The facilities are excellent.  Take yourself out to the ballgame at one of Georgia's best recreational areas.
The large, covered pavilions are only a few feet from the parking lots.  That way, you're not lugging all the BBQ fixin's and bags of ice across lumpy fields to set up.
When it's time to go?  Just pick up your trash, wave goodbye and you're on your way.  That's nice after a long day.
Hall County Parks skillfully maintains the tennis courts, volleyball facilities and a mile-long running track.  Pick a spot by the water to snag a nap or stay in contact with the office.  What they don't know won't hurt them.
Get to know Laurel Park and its BBQ Cook-Offs, musical events, seasonal festivals and holiday fireworks.  The greatest park on Georgia's greatest lake is Laurel Park on Lake Lanier.
Laurel Park Facilities
2 Little League fields and 2 softball fields
2 Playgrounds
2 restroom buildings
2 tennis courts
25 picnic sites with grills
3 picnic shelters with water and electricity
Boat ramps
One-mile walking trail
Volleyball court
Sprayground (water playground) for small children
Dog park
Address: 3100 Old Cleveland Highway; Gainesville, GA 30506