Remember the movie, Field of Dreams, where the guy built a baseball diamond in his cornfield?  Lanier Point Park is what happens when even bigger dreams come true.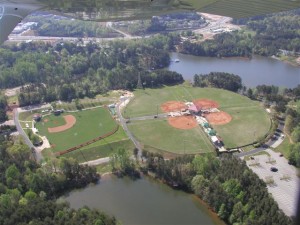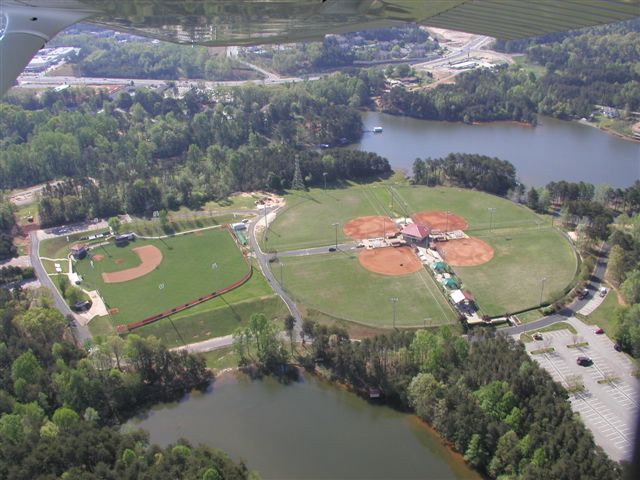 Lanier Point on Lake Lanier has all the standard park stuff.
You can launch a boat, catch a fish, fly a kite or grill hot dogs in the fresh lake air.  If you're feeling tough enough, romp around with your kids until no one can romp any more.
Lanier Point Park is like The Wizard of Oz version of Field of Dreams.  It's amazing.
Five 300-foot baseball diamonds with a two-story control tower and eight-foot tall fences in the outfield.
Playing ball at night?  Pfft.  Not a problem.  Lanier Point has enough lights in the outfield to be seen from Pluto.  Yes, Pluto IS a planet.  [Insert in-law joke here.]
The Lanier Point Athletic Complex is truly one of the premier athletic facilities in the Southeast.  This groomed 96-acre complex serves almost 15,000 baseball players.  The 75,000 annual spectators can dine right around the corner at one of roughly 1,492 of America's most popular restaurants.
Amenities at Lanier Point Park Athletic Complex
Ample Parking
Picnic facilities
Hollywood bases
Phone to all fields
Metal halide lighting
Four 300-foot fields
Access to boat ramp
Eight-foot outfield fences
Professional supervisory staff
Spacious two-story control tower
419 Bermuda grass outfield
Please Note:  If I am paid to write a story about a baseball field that has "Hollywood" bases, I write it, even if I never heard of "419 Bermuda" grass.
419 Bermuda is most popular sports turf for the last 40 years. Its dense, rapidly spreading growth habit means quick recovery from injury, making it one of the most durable hybrid Bermudas … it tolerates close mowing and is highly disease resistant.
Lanier Point Park Information
Gainesville Parks and Recreation welcomes dogs on leashes in their parks.  Inside Lanier Point Athletic Complex, however, dogs, bicycles, tricycles, roller skates, skateboards, roller blades, or scooters are not allowed.
Directions:  Heading away from Gainesville on Dawsonville Highway (Ga. 53), go past all the restaurants and take a left at the church onto Lanier Valley Drive.  Follow Lanier Valley Drive to 1579 Lee Waldrip Drive, NW; Gainesville, GA, 30501.