Gainesville's Parks Department keeps Holly Park in excellent shape for visitors.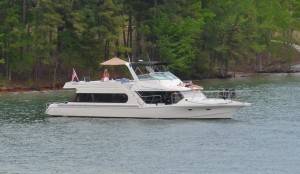 Holly Park rubs shoulders with office parks, apartment complexes and tasty junk food is just down the road.
If you work in Gainesville and you have an hour for lunch, Holly Park might become your favorite spot for lunch and a bit of sunshine.  It was my personal favorite for many years.
Two picnic pavilions with grills are open to the public.  Make reservations by calling 770-535-3078.  They are perfect for family gatherings — if you keep the kids from wandering down by the water.
Holly Park is also an excellent place to fish for stripers from shore.  Adjacent to the boat ramp is a dandy sandy beach.  Swim at your own risk, however, because there isn't a life guard.
If your boat is small enough and you're skilled at backing your boat into the water, you can navigate the small ramp.  Big boats?  Forget about it.
There's a fishing hole at Holly Park where I have personally seen a zillion striped bass simultaneously splashing about in a feeding frenzy.  It looked like you could walk across the cove on top of them.  Catching them is the trick.
Holly Park is at 2603 Old Thompson Bridge Road, NW, in Gainesville, GA, 30501.
It's easy to miss the little side street that leads to this sweet location.  If you're coming into town on Route 60 — Thompson Bridge Road — from the northern portion of Hall County or coming from Dahlonega, slow down after you cross the large Thompson Road bridges.
Look for Old Thompson Bridge Road on your right.  If you're heading out of Gainesville, the road you're looking for is just beyond the large Lakewood Baptist Church on your left.