There are approximately 100 boat ramps on Lake Lanier.  One of the most useful is East Bank Park on the south side of the lake.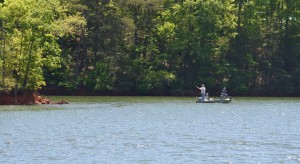 Some of the lake's day-use parks  might only have a single ramp and parking for a few trucks and trailers.
East Bank Park, a US Army Corps of Engineers (USACE) facility, has a spacious parking lot at 1250 Buford Dam Road, Buford, GA, 30518.
This conveniently located boat ramp is a favorite among boaters who live between Lanier and Atlanta.
Even though it's large, there is a chance it might be full on holidays or over weekends with perfect weather.  Bad weather can hit Lanier quickly — especially summer thunderstorms.  Mark this point on your GPS, in case of an emergency.
East Bank Park is open 24/7 for launching or landing boats for midnight cruisers and folks who like to fish at night.
The Corps runs 46 park areas around the lake for picnics, camping, boat launching, swimming areas, group picnic shelters and hiking.