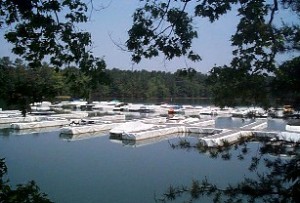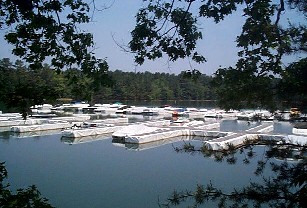 Habersham Marina is not located in Habersham County.  It's in Cumming, Georgia.  In fact, it's the closest marina to downtown Atlanta, only 30 minutes from I-285 north on GA 400.
Only three miles off GA 400 at Exit 14, the marina is convenient to shopping, dining and everything you need for a full day's play on the water.
Serving boaters on Lake Lanier since 1972, Habersham Marina has 625 dry-stacks for boat storage.
Habersham Marina's Ship Store carries everything from wakeboards to cleaning supplies and parts … just in case you forget something, want to buy something or decide it is time to replace something.  The store and the marina's full-service gas dock are open seven days a week from 9 AM until 5 PM.
Habersham prides itself in the ability to take the hassle out of boating, so you can enjoy the day on the lake.  Just call ahead and they'll put your boat in the lake for you.  Grab your supplies at the store.  Gas up and you're ready for a day on the lake!
Habersham Marina Contact Information
Habersham Marina
2200 Habersham Marina Rd.
Cumming, GA 30041
Phone:  770-887-5432
E-mail information: [email protected]
Regular Hours
Open from 9 to 5, Monday through Sunday
Winter Hours: December, January and February
Open 9 to 4 Monday through Saturday
Closed on Sunday