Take a Day Trip to the Blue Ridge Parkway
Lake Lanier is beautiful all year long.  Every once in a while, it's nice to head north and have a day in the Blue Ridge Mountains on the Blue Ridge Parkway.  If only for the change of scenery.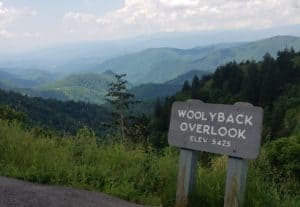 Just about everyone has a GPS in their vehicles.  Finding the Blue Ridge Parkway, however, is as easy as hopping on I-985 and heading north.  If you can follow the road signs for Route 441, you can't miss the entrance to the terminus near Cherokee, North Carolina.
Since construction began on this 469-mile road/park in 1935, millions of fortunate travelers have witnessed some of God's most beautiful creation east of the Rockies.  On September 11, 1987 — exactly 52 years after the project began — the final section of the Blue Ridge Parkway was finished.
The magnificent hillsides, the spectacular roadside overlooks and the engineering of the parkway will keep you enthralled as you travel the highway that touches the sky through North Carolina and Virginia.
The final stop?  Rockfish Gap, Virginia, of course.
You're welcome to spend a night or a few days at the gorgeous Pisgah Inn, about 25 miles from Brevard, NC.
If you're feeling lucky, don't make reservations before you arrive.  If you're smart, you'll make reservations about a year in advance … because that's how wise travelers score one of the rooms with the most beautiful mountainside rooms on the parkway.
Plan on dining at the delightful restaurant with a panoramic view of the Blue Ridge Mountains.  Just don't plan on eating between 4 PM – 5 PM, when they are closed to prepare for the dinner rush.  The good news?  You don't need reservations for dinner at the Pisgah Inn dining room.
Splurge a little!  Spend the night in Asheville.  The Blue Ridge Parkway will take you so close to the Biltmore Estate that you can almost hear the gasps of folks touring the house … which you must do.  Someday.  Christmas is best, in my humble opinion, when the mansion is filled with gloriously decorated trees and ornaments.
Or turn around and head back home to sleep in your own bed in your own home, and dream of your return trip to the mountains.
The parks … the views … the experience of the Blue Ridge are a few hours away.  Don't let your life whittle away without a ride on the Blue Ridge Parkway.
Even if you have to buy a new motorcycle or convertible — the best options for this day trip.