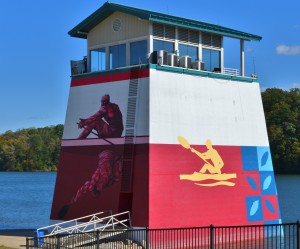 The 2014 USA Canoe/Kayak Sprint National Championships will be contested at the Lake Lanier Olympic Venue in Gainesville, GA, beginning on Thursday, July 31st through Saturday, August 2nd.
Organizers have chosen one of the world's most perfect locations for the premier teams to battle one another in this elegant sport.  The Lake Lanier Olympic Venue is slowly being returned to its once global prominence, thanks to local leaders who understand the treasure we have in our backyard.
This is the site of the 1996 Olympic venue for both rowing and sprint canoe, the only ICF World Cup event to be held in North America and the Lanier Canoe 2003 Flatwater World Championships, as well as the home of The Lanier Canoe and Kayak Club and The Lake Lanier Rowing Club.
The games will be held at the venue at Clarks Bridge Park, located at 3105 Clarks Bridge Road, Gainesville, GA 30506.
The road leading to the venue is now open to all traffic, following a two-month closure due to road construction.
To keep up on all the action click on the link below for schedules & results.