Lake Lanier and its rivers are a popular destination for canoe and kayakers. Whether you want to go for a nice leisurely paddle around the lake or you want to paddle a more challenging section of the Chattahoochee or its tributaries, Lake Lanier is a great location to explore by canoe or kayak. Follow the links below to access information about:
Lanier Canoe and Kayak Club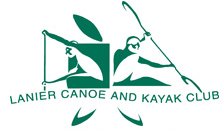 Located at the 1996 Atlanta Olympic Venue in Gainesville, Lanier Canoe and Kayak Club and Lake Lanier Rowing Club continue to be a venue for competitive water sports on Lake Lanier. Various regattas, festivals, and events are held at the Lanier Centre throughout the year.
The Canoe and Kayak Club is open Sat. and Sun 1-8pm May-Sept. for canoe/kayak rentals and "Come Try It". "Come Try It" is basic instruction to give you a taste of what it's like to paddle on Lake Lanier.
Kayak
1- hour    $20 Single / $30 Double
2-hour    $30 Single / $40 Double
Canoe – Max of 3 adults or 2 adults and 2 children under 10
1-hour     $20
2-hour     $30
Group Rentals
Canoes, kayaks and dragon boats are available for group rentals. Call the LCKC office at 770-287-7888 or email [email protected] for rates and schedule.
Moonlight PaddlesEnjoy Lake Lanier under the moon light. On Friday evening nearest the full moon June-October, LCKC hosts a Moonlight Paddle that is free for LCKC members and $20 for non-members. A professional instructor leads all group paddles. This is your chance to get a different look at the Lake Lanier Olympic Venue at Clarks Bridge Park. Come out and enjoy the friendly atmosphere and tranquil scenery. All equipment is provided and is available on a first come, first serve basis. All participants must wear a PFD (life jacket).  Please arrive by 7:30pm for May-August paddles and 6:30 in September and October.   Children under 18 must be accompanied by a parent.  2017 Dates: Coming Soon!

More Information
In addition to this, the Lanier Canoe and Kayak Club and Lake Lanier Rowing Club are places where locals can join to make friends while enjoying the sport.
Services: private lessons, canoe and kayak rentals, facility rental, summer day camp, summer youth rowing programs
Phone: 770-287-7888
Website: lckc.org
Location: Clarks Bridge Park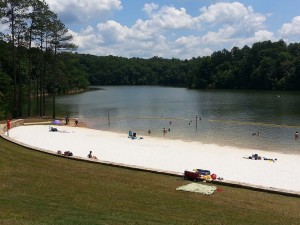 Don Carter State Park is a nice and tranquil place to launch a kayak.  They have kayaks available to rent year-round.  Make your reservation at the park's Visitor's Center.  Kayaks are kept at the beach for easy launching.  Rentals are $24 for 4-hours and $40 for 8-hours.
Address:         5000 N. Browning Bridge Road, Gainesville, GA, 30506
Phone:            (800)864-7275
Operated by:  Georgia State Parks and Recreation