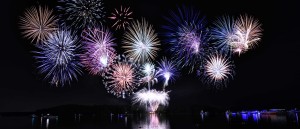 Unfortunately, organizers had too many celebrations to pack into the 4th of July at Lake Lanier Islands.  So, they decided to celebrate Independence Day for FOUR days instead!
There is so much food, so many bands and so many things to do this 4th of July at Lake Lanier Islands that the celebration is starting on Thursday, July 3rd and will rock all the way through Sunday the 6th.
LanierWorld will play host to the majority of the festivities.  Thursday brings live music from Wylie Street Coyotes to the Big Beach Floating Stage from 3-7 PM.  Johnny Summers plays at Sunset Cove from 5-9 PM.
The Red, White & Blue 4th of July Party will be rocking Sunset Cove from 11 AM until 10 PM.
Second Hand Swagger takes the stage from 3-4:15 PM
Come say hello to the voices you hear on Kicks 101.5 from 4-7 PM
Convoy performs live from 6:30-9 PM.
Fireworks light up the skies beginning at 10 PM on the 4th of July at Lake Lanier Islands!
That leaves two more days of fun!
Saturday, July 5th keep the party going with live music on the Big Beach Floating Stage from:
Wylie Street Coyotes on from 1-5 PM
Gray Sartin at Gianni's from 5-9
Let's not forget what's going on at Sunset Cove!
Ashley Rivera takes the stage from 1-5 PM
Bama Gamblers from 6-10 PM.
After dark, stay for the weekend's Beach Flick on Big Beach.  Captain America — starring Chris Evans and Samuel L. Jackson — will be shown on the big screen.
If you last until Sunday, you'll have another great day celebrating the 4th of July at Lake Lanier Islands.  Live music at Sunset Cove includes performances from:
Redneck Blonde from 1-5 PM and
Evan Greenstein from 6-10 PM.
Meanwhile, Wylie Street Coyotes will make musical waves on the Big Beach Floating Stage from 3- 7 PM on Sunday.
Vice-President for Sales & Marketing for Lake Lanier Islands Resort Stephanie Orr, says "Because the fourth of July falls on a Friday this year, we're expecting record crowds for the holiday weekend.  Between the sun, sand, attractions, and live entertainment, there's nothing quite like our Independence Day celebration.  You haven't seen fireworks until you've seen them reflected on the waters of Lake Lanier."
Forget the Bahamas.  Come to the Islands on Lake Lanier.