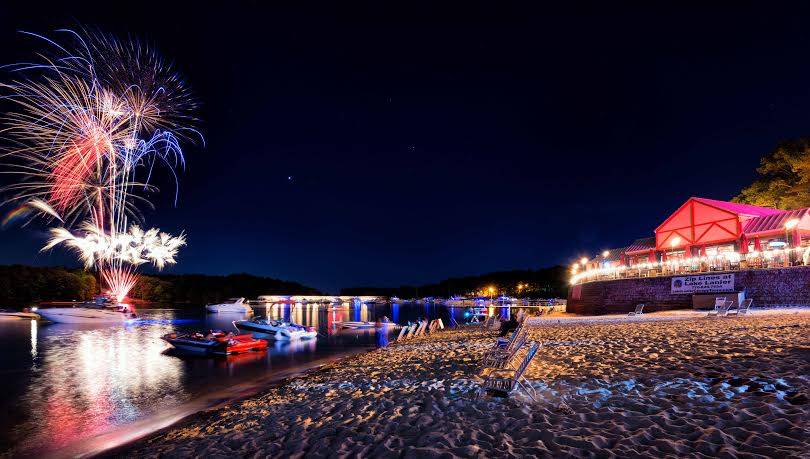 Lanier Islands' 4th of July 2015 Party at LanierWorld
It's summertime, summertime, sum-sum-summertime at Lanier Islands!  That means it's party time at LanierWorld.
The Fourth of July will be here before you know it.  The Islands will explode with fun during a four-day celebration.
Come see the rocket version of fun-in-the-sun at its LanierWorld beach, boardwalk and waterpark entertainment zone, as well as live concerts, patriotic food and drink specials, and – of course – fireworks.
"We invite our fans of all ages to come celebrate this great nation's birthday with us," said Bucky Perry, Lanier Islands' Director of Operations.
"For those who have never experienced the Islands and LanierWorld before, it's the perfect weekend to come and see what we're all about. Guests can ride the water slides, dip their toes in the lake, build a sandcastle while soaking up some sun on our pristine beach and catch a pick-up game of volleyball at Sunset Cove. We'll have live entertainment on our outdoor stages all weekend long, as well as regular appearances from our mascot – Bucky the Beaver. Everyone will want to put a ride down our new slide – CAT4 – on their to do list, as well as a trip across our newly expanded Wibit aquatic obstacle course. Not to mention, we'll be setting off fireworks over the water three out of the four nights."
Have you heard the amazing news from Lanier Islands about free admission for active duty military personnel and law enforcement officers?
Starting July 1, 2015, Lanier Islands will give free them free admission to LanierWorld for the remainder of the Summer 2015 season.  That's one of the best ways to say, "Thanks for your service!"
Lanier Islands Schedule for Independence Day Weekend 
Thursday, July 2
LanierWorld open 10 AM-9 PM.
Live entertainment on the Sunset Cove stage. John Amoroso from 4-7 PM and Riley Biederer from 7-11 PM
Friday, July 3
LanierWorld open 10 AM-10 PM.
Live entertainment on the Sunset Cove stage featuring Craig Gleason from 3-7 PM
Local favorites Samantha Stroh and Southern Machine take the stage from 7 -11 PM.
Fireworks extravaganza begins after dark (weather permitting)
Saturday, July 4
LanierWorld open 10 AM-10 PM.
Guests can dance in the sand as KICKS 101.5 rocks the Big Beach stage.
Former X Factor finalist and country music singer Skyelor Anderson performs at 4 PM
Native cover band Tiki Bros. will rock out Buffett, Marley, Clapton and more at 6:30 PM.
Fireworks extravaganza begins after dark (weather permitting)
Sunday, July 5
LanierWorld open 10 AM-9 PM.
Live music on the Sunset Cove stage with Johnny Summers from 2-6 PM.
Fireworks extravaganza begins after dark (weather permitting)
Last year's four-day Independence Day Weekend Celebration saw more than 23,500 guests through LanierWorld's gates. Those numbers are expected to be even higher this year.
There was also a traffic jam one night.  Lanier Islands' Marketing Genius & Nice Guy Chris Hendley says they're better prepared this year and they'll do everything possible to keep cars flowing smoothly after the festivities.
Why worry about traffic at all?  Spend the weekend at Lanier Islands!  For the very best value, families may want to consider playing all day and sleeping all night on Sunday, July 5. Guests who wish to book a stay for Independence Day Weekend at Lanier Islands are encouraged to visit www.LanierIslands.com or call 770-945-8787.
Daily admission and season passes to LanierWorld can also be purchased online.